Call for Applications: ARRT Postdoctoral Fellows
The Advanced Rehabilitation Research Training: Inclusive Technology and Policy Design Research Fellowships (ARRT) Project is currently accepting applications for ARRT Postdoctoral Fellows Program, with an expected start during Spring/Summer, 2024, depending on candidate availability. ARRT Fellows are expected to have earned their doctorate degree (Ph.D. Psy.D. J.D., or terminal degree equivalent) in a relevant field such as rehabilitation engineering or engineering/computer science or in a pertinent field such as disability studies, economics, law, or policy, with an interest in conducting research in accessibility, usability, or disability related policy. Fellows will be trained through a combination of classroom, hybrid-format, and formal instruction, didactic training and membership, independent and collaborative research, and research practicums and residencies.
Background: The Advanced Rehabilitation Research Training: Inclusive Technology and Policy Design Research Fellowships (ARRT) Project, was implemented under funding from NIDILRR's priority for the ARRT Policy Research Fellowship program. During the five-year duration of this project, project staff will train four (4) postdoctoral fellows in the area of advanced disability and accessible technology policy, responsive to NIDILRR's domains of community participation and employment with a cross-cutting focus on technology for access and with specializations in information and communications technology (ICT) policy, as it pertains to issues of accessibility and usability for individuals with disabilities.
The Center for Advanced Communications Policy (CACP)'s ARRT program builds on the experience of the Rehabilitation Engineering Research Center on Wireless Inclusive Technologies (Wireless RERC) and other NIDILRR related projects to provide a basis for training and research activities. The Center engages with the Federal Communications Commission (FCC), National Technology and Information Administration (NTIA), National Council on Disability (NCD), and U.S. Access Board, among other institutions, to address the priority's requirement for an (optional) one-year residency in Washington, DC for Congressional, Federal Agency, or relevant non-governmental organizational policy experience. The program is also supported by other NIDILRR funded projects at Georgia Tech related to technology and disability, including the Field Initiated Project on the Contingent Employment of Individuals with Disabilities (FIP-CE), which also engages policymaking as it pertains to technologically based employment of individuals with disabilities as part of the so-called "gig economy."
Candidates will be supported with a stipend of $55,000 per year, comparable to other postdoctoral trainees at Georgia Tech and commensurate with the Atlanta, Georgia area.
ARRT Flow Chart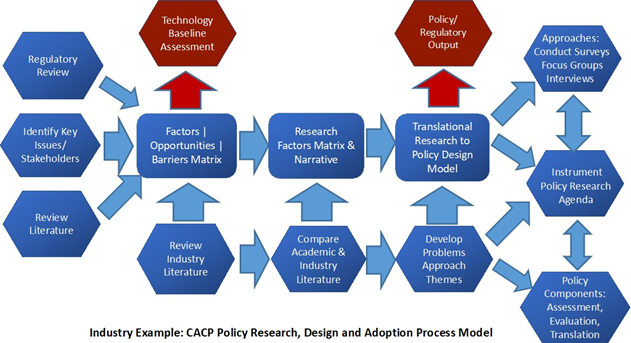 Formal (instructional) training includes: a three-hour Special Topics seminar, Applied Disability Research Policy Methods (PUBP 8813), offered through the School of Public Policy on an audit-basis by Drs. Moon and Baker, faculty with appointments in the School of Public Policy. Additional mentorship and guidance will be provided through participation in the research, training, and dissemination projects and associated research activities of the ARRT's home unit, the Center for Advanced Communications Policy. Two fellows will be supported for a one-year residency in Washington, DC, or a comparable appointment. Fellows also will complete a collaborative research project, with emphasis on conference presentations that will be supported by the project and manuscript preparation.
Call and Instructions for Applications to the ARRT Postdoctoral Fellows Program
Postdoctoral Fellowship in Technology Policy and Rehabilitation Research
Spring/Summer 2024 – Spring 2026 (Round 1)
Salary: $55,000 USD/year, plus benefits
The Georgia Institute of Technology's Center for Advanced Communications Policy (CACP) welcomes applications for its Advanced Rehabilitation Research Training (ARRT) Program: Inclusive Technology and Policy Design Fellowships, funded by the National Institute on Disability, Independent Living, and Rehabilitation Research (NIDILRR).
The Principal Investigators and Advisors are:
Nathan W. Moon, Ph.D., is the PI for the ARRT program, and a social scientist whose work focuses on workplace accommodations and the employment of people with disabilities, broadening participation in postsecondary education, and the accessibility and usability of mainstream and assistive technologies.
Paul M.A. Baker, Ph.D., is the ARRT Co-PI, Principal Research Scientist and Senior Director, Research and Strategic Innovation, at Georgia Tech's Center for Advanced Communications Policy (CACP), and Chief Operations Officer, Center for the Development and Application of IoT Technologies (CDAIT). His work focuses on innovation networks in technology development and workforce development, policy approaches for advancing technology and universal accessibility goals for persons with disabilities; inclusive telework; social media innovation, and the functioning of online collaboration and virtual communities.
John Bricout, Ph.D., is a Professor and Director of Research in the University of Minnesota School of Social Work. He also serves as co-director of the interdisciplinary Workforce Development and Research Lab in the UMN College of Education and Human Development. His work includes application of social technologies to enhance engagement of people with disabilities, disability and employment, technology and social work ethics, rehabilitation science, and workforce development.
Responsibilities
The successful ARRT Fellow will
assist with and, eventually, co-teach a graduate-level seminar (PUBP 8803/4813: Policy Innovation for Inclusion), typically offered during the Spring semester,
participate in didactic training and mentorship on policy research (3-5 hours/week)
develop and undertake an independent research project that is responsive to NIDILRR's Long Range Plan and priorities, leading to substantial publications or comparable outputs (8-16 hours/week)
contribute to other NIDILRR-funded research projects at Georgia Tech (10-12 hours/week)
In Year 2, the ARRT Fellow, based on their research projects, interests, and availability of appropriate opportunities, may spend a one-semester residency with a federal agency, or appropriate policy-making organization in Washington D.C.
Qualifications and Requirements
PhD., J.D., or equivalent terminal degree in a relevant field: rehabilitation engineering, related science or engineering discipline; OR public policy, or related social sciences with research focus on disability, assistive technology, or rehabilitation science.
Experience in qualitative, quantitative, or mixed-methods research with ability to demonstrate related tool skills.
Ability to work independently and collaboratively, with a demonstrated ability to manage projects and work in teams.
Experience or interest in public policy or regulatory issues related to mainstream and assistive technologies and stakeholders with disabilities.
Ability to undertake a residency on the Georgia Tech campus in Atlanta, Georgia, is highly preferred
U.S. Citizen.
Fellows are expected to have PhD or a terminal degree "in hand" at the start of their appointments. However, under exceptional circumstances and based on academic references, PhD candidates within 3-6 months of completion may be considered.
Application Instructions
To apply, submit the following:
Cover letter (maximum 750 words) explaining your interest in the position and how you meet the qualifications listed above.
Current CV.
One paper, published or unpublished, that best represents your work.
Name & email for three (3) academic references (to be contacted for short-listed candidates).
Please email your application to Nathan Moon (nathan.moon@gatech.edu) and include the subject line "ARRT Postdoctoral Application – [Your First & Last Name]."
Deadlines: Applications will be reviewed on a rolling basis starting September 1, 2023 with a prospective start during Spring/Summer 2024. Applications will be considered until position is filled.
The Advanced Rehabilitation Research and Training (ARRT): Inclusive Technology and Policy Design Research Fellowships project was developed under a grant from the National Institute on Disability, Independent Living, and Rehabilitation Research (NIDILRR grant number 90ARPO0002). NIDILRR is a Center within the Administration for Community Living (ACL), Department of Health and Human Services (HHS). The contents of this website do not necessarily represent the policy of NIDILRR, ACL, HHS, and you should not assume endorsement by the Federal Government.