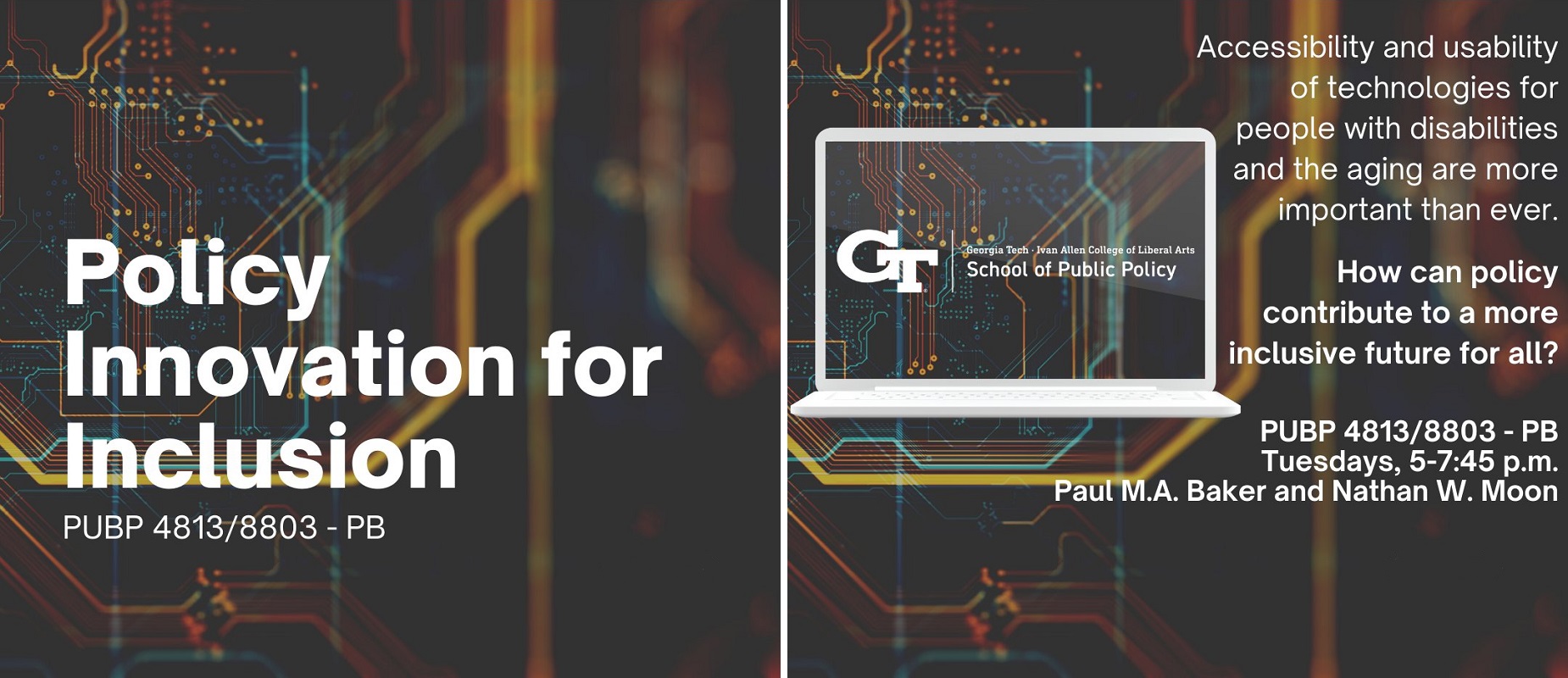 Advanced Rehabilitation Research and Training (ARRT) Policy Course: Policy Innovation for Inclusion (Spring 2022)
Paul M.A. Baker, Ph.D. and Nathan W. Moon, Ph.D.
"Policy Innovation for Inclusion" is a 3 cr. seminar graduate (undergraduates admitted by permission only) special topics seminar addressing the development of inclusive policy approaches, regulatory filings, and innovative (e.g. social media) outreach activities. We will address the difference between innovation in policy design, and policy design to encourage technological innovation, both of which differently address outcomes of enhanced accessibility and usability, and mitigation of barriers to the information technology use by people with disabilities and the aging in work, home, and daily living contexts.
The seminar will be divided roughly into three parts. The first third of the class will cover fundamentals of legislative, regulatory and policy processes, specifically in the areas of technology and standards, disability policy, and inclusive design. The second third will have expert guest speakers in a variety of pertinent technology, disability and employment policy areas, and the last third will be research presentations of the seminar projects. The seminar objective is to produce innovative policy papers in these vital issue areas.
COURSE OBJECTIVES:
Develop an understanding of the purpose, structure, approaches, and outcomes of the various public and private programs that serves individuals with disabilities and the aging.
Develop an understanding of the interlacing and overlapping of policy systems and the importance of integration among various actors.
Understand the nature and complexity of disability policy in society including age, locational, and socioeconomic concerns.
Identify potential problems and challenges to full inclusion and quality of life by persons with disability and delineate technological approaches and application of technologies to mitigate these barriers.
Identify key stakeholders and actors in the public, private and third sectors, and understand their particular focus.
Have a working knowledge of 1) contextual and baseline assessment methods, 2) stakeholder and community-based research approaches designed to capture community, workforce, and employment, as well as associated social and situational contextual factors, 3) regulatory and policy analysis, design, and development, and 4) communication, outreach and dissemination methods including social network analysis, social media usage and targeted translational activities.
Produce a team-based policy paper identifying and developing an approach to mitigate barriers to, or alternately, to enhance technological inclusivity (e.g., wireless, telecommunications, or IT related) in the application of specific technologies for full participation in society (e.g., workplace accommodations, smart communities, environmental issues) by individuals with disabilities. This paper will be used as a basis for the semester's research project.