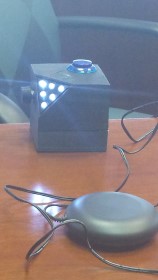 On the Wireless RERC project "Emergency Lifelines on Wireless Devices," researchers determined what was needed to ensure that next-generation emergency communication systems afford full access to people with disabilities, particularly as emergency alerts move from conventional broadcast media (radio and TV) to wireless networks and devices. Bluetooth enabled external alerting device was developed under the Rehabilitation Engineering Research Center for Wireless Technologies (Wireless RERC) funded by the National Institute on Disability and Rehabilitation Research (NIDRR) of the U.S. Department of Education under grant number H133E110002.
The external alerting device connects to mobile phones via Bluetooth and alerts the user with a sequenced light display and a siren only when a Wireless Emergency Alert (WEA) is received on an associated phone. It also allows up to 3 accessible attachments to be connected to the device, such as a pillow shaker, bed shaker or strobe light. The device is unique because it is only enabled when a WEA message from a FEMA approved alert authority is sent for the geotargeted area. It will allow users to be aware of potential emergencies and hazards in their current area even if the cell phone is not directly next to them, when the phone is not loud enough to notify them or when they are asleep (with a bed shaker attachment).
CACP researchers designed a Bluetooth-enabled prototype for emergency alerts. The prototype was built to alert users when Wireless Emergency Alerts (WEAs) are sent to their mobile phones. Currently, our prototype works with Android based devices, using sound and light to immediately notify the user when (and only when) a WEA message appears on their phone. The device also allows connection for up to 3 accessible attachments (such as bed shakers). Our external alerting device and preliminary app allows the user to customize whether they receive any combination of light, sound or bed shaker alert. We have concluded development and focus groups for the device.